Limited liability partnership is a combination of both partnership and corporation. It has the
feature of both these forms. As the name suggests partners have limited liability in the
company which means that personal assets of the partners are not used for paying off the
debts of the company.

Limited Liability Partnership (LLP) Registration
Limited liability partnership is a combination of both partnership and corporation. It has the feature of both these forms. As the name suggests partners have limited liability in the company which means that personal assets of the partners are not used for paying off the debts of the company. Nowadays it has become very popular form of business as many entrepreneurs are opting this. All limited liability partnership is governed under the limited liability partnership act of 2008. Every Limited Liability Partnership shall use the words "Limited Liability Partnership" or its acronym "LLP" as the last words of its name. Every LLP shall have at least two designated partners being individuals, at least one of them being resident in India and all the partners shall be the agent of the Limited Liability Partnership.
Procedure For LLP Registration
Complete our LLP Form
You need to fill our simple LLP online questionnaire and submit LLP documents.
Obtain DSC and DPIN for LLP
After submitting your documents we will provide you with DSC and DPIN
LLP Verification & Name Approval
Details provided by you will be verified & then we shall apply for LLP name approval.
LLP Document Submission
We will create all the required documents (MOA & AOA) and file them with ROC for your LLP.
Your work is completed
Once your LLP is incorporated, we shall send you LLP certificate and DSCs
Documents Required For LLP Registration
Copy of PAN Card of partners
Passport size photograph of partners
Copy of Aadhaar Card/ Voter identity card/ Driver's license as address proof
Electricity/ Water bill/ Telphone bill/ Latest bank statement as proof of Registered Office (Business Place)
Copy of Sale Deed/Property Deed (If owned property)
Landlord NOC (Format will be provided)
Passport (in case of Foreign Nationals/ NRIs)
Digital Signature Certificate
Copy of NOC from the property owner
Before starting the process of registration, you must enrol for the DSC of the designated partners of the proposed LLP. Applying for DSc is important because the registration process of LLP is done online and requires to be digitally signed.
So, the LLP partners must get the DSC from government-approved certifying agencies.
After applying for DSC the next step is to enrol for DPIN and DIN application for the proposed Partners of the LLP. Within a timeframe of 5 to 7 working days, DPIN and DIN. The application for allotment of DIN has to be made in Form DIR-3. You have to add the scanned copy of Aadhaar and PAN to the form. The form needs to be signed by a Company Secretary in full- time employment of the company or by the Managing Director, Director or CEO of the existing company in which the candidate shall be designated as a director.
LLP-RUN i.e. Limited Liability Partnership-Reserve Unique Name needs to registered for the reservation of name of proposed LLP. This is further treated by the Central Registration Centre under Non-STP. But before circulating the name in the form, it is suggested that you use the free name search facility on LegalRaasta portal. The system will give the list of exactly resembling names of existing LLPs. 1-6 is the limit proposed names are expected to be given to the MCA.
Once the name is approved, one requires to draft Memorandum of association and Articles of Associate. Both MOA and AOA are registered with the MCA with the agreement statement.
The form used for incorporation is FiLLiP(Form for incorporation of Limited Liability Partnership) which must be registered with the Registrar who has jurisdiction over the state in which the registered office of the LLP is located. The form will be an integrated form. Incorporation documents can be presented to the MCA along with an application for incorporation.
Then you require to apply for PAN and TAN. PAN and TAN and receive in 7 working days. You can submit the Incorporation certificate, MOA, AOA and PAN with the bank for opening your bank account.
Important forms in LLP Registration
RUN – LLP Reserve Unique Name-Limited Liability Partnership- A form for reserving a name for the LLP
FiLLiP – A Form for incorporation of LLP
Form 5- Notice for change of name
Form 17- Application and statement for the conversion of a firm into LLP
Form 18- Application and Statement for conversion of a private company or unlisted public company into LLP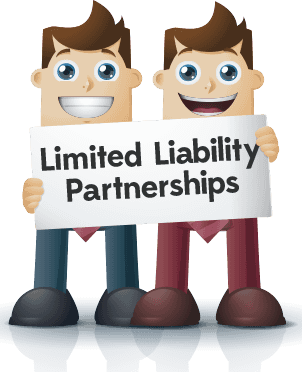 What Is Included In Our LLP Registration Package?
Frequently Asked Questions
1. What is the minimum number of Partners required to start a Limited Liability Partnership?
At least two partners are required for LLP registration. The maximum partners can be 200. If you are the sole owner, you can register as a One Person Company.
2. Who can become a partner in LLP?
Any individual/organisation can become the partner in LLP including foreigners/NRI's. However, the individual must 18+ above in terms of age and should have a valid PAN card.
3. Do I have to be available in person to incorporate an LLP?
Our procedure is 100% online which means there is no compulsion for you to be present at our office physically. A scanned copy of documents can be sent to us via mail, and we will handle the rest. You will get the company incorporation certificate from MCA via courier at your business address.
4. Once I pay for the incorporation, is there any other payment before I get the Incorporation Certificate?
We do not have any hidden charges. Our system is quite transparent. After making your payment, we will send you an invoice that is all-inclusive, with no hidden charges. Our team provides you support till you get your LLP bank account.
5. How much money do I need to invest upfront in starting the business?
You need to have a bank account with a minimum balance, which could be as little as Rs. 5000. You need not invest any more capital in starting the business. You needn't even deposit this amount to the bank. You can also show that the capital has been utilised as the pre-incorporation expenses of LLP e.g, LLP registration expenses. You can also show this capital has been infused in form of assets such as computers etc.
6. Can NRIs/Foreign Nationals be a Designated Partner in LLP?
Yes, but only after he has been assigned with DIN/DPIN. However, at least one designated partner in LLP must be a Resident of India. In fact, the foreign director can also be a majority shareholder in the company
7. Can I register the LLP at my home address?
Yes, you can register your LLP at your residential address. It is perfectly legal to start the company at your home or in your garage. MCA team typically doesn't visit your office. You just have to provide your home address proof such as rent agreement or electricity bill.
Why Choose Madras Filings
GOT QUESTIONS? GET A FREE CONSULTATION
We're here to help answer your questions. Financial matters can be complicated, our experts are on hand to help inform you of every aspect regarding your topic.